Contemporary Mixed Media
Artist & Educator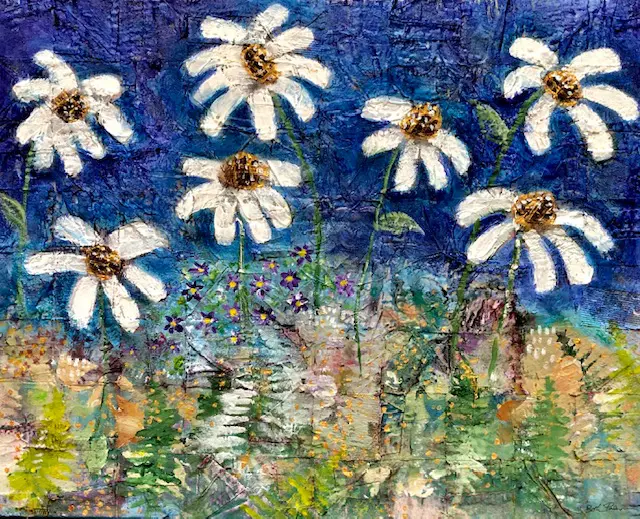 Beautiful And Provocative Life Affirming Landscapes Of The Spirit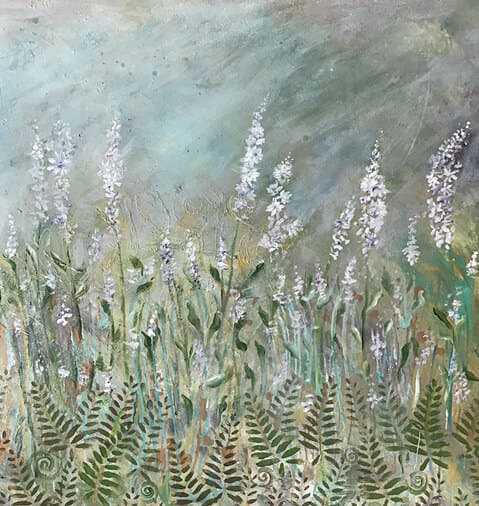 The Forty Three Trees Project
The 2022 series "The Forty Three Trees Project" is a community outreach and engagement program using tree paintings in many styles, sizes, and materials as the subject matter. It is designed to be a platform to connect communities through arts, public health (especially nursing), and intergenerational collaboration. Using the power of serendipities and fun surprises whenever possible keeps a sense of lightness, compassion, and creativity in challenging times.
Current efforts include creative reuse for a purpose, using lovingly collected vintage textiles and ephemera applied on canvas with acrylic paint as fine art. In the past decade, she has designed and implemented the Fifty Six Hearts Project and the International Joy of Creativity Project, which are still vibrant parts of her body of work.
Duke University Master of Arts in Teaching Program, and later Duke TeachHouse, installed a special exhibit of The Fifty Six Hearts Project to inspire teaching through the arts. Beth Palmer has made keynote addresses on the value of arts and mindfulness in recovering one's vitality in the midst of illness.
Creating the concept design and facilitating the partnerships for "A Concerted Effort," a 2014 music and medicine symposium hosted by the Durham Medical Orchestra, Duke Health, Durham Arts Council, and Durham Public Schools, has led to many new opportunities which she hopes can inspire others.
Advising and partnering with healthcare research scientists, program leaders, and educators, and especially supporting them in their challenging work, with her gratitude and childlike wonder, is a constant strong commitment and value. Community leaders share that they appreciate having her art as inspiration and encouragement in their homes.